Shintaro Sakamoto's Live at Cabaret New Hakuba film
Shintaro Sakamoto, who released his 4th album "Like a Fable", went on a release tour last December.After the full tour schedule was announced, the performance at the New Hakuba Cabaret in Yatsushiro City, Kumamoto Prefecture, which is the only existing cabaret in Japan and is known as the birthplace of Aki Yatsushiro, a native of the area, was the talk of the town on SNS and other social media.
Convinced that this was going to be a special night, film director Hitoshi One decided to take a total of 30 staff members and shoot the event with six 16mm film cameras, without regard to profitability. The result was a precious live video that beautifully captures the atmosphere, audience, and performance of an actual cabaret venue, as if we were back in time, with the texture of film.The first screening will be held at Sakamoto's home ground, LIQUIDROOM.
Three screens will be set up at the venue for the screening, and the video will be edited on three screens by director Hitoshi One and Yasuyuki Ozeki.The sound will be multi-recorded by Soichiro Nakamura and mixed live by Sachio Sasaki, a sound engineer who has been supporting Shintaro Sakamoto's live sound for more than 20 years in Japan and abroad.
This will be a new trial that will provide a LIVE-like viewing experience that is different from watching the performance in a movie theater.The official advance registration starts tomorrow, April 14 (Fri.) at 12:00. For details, please see below.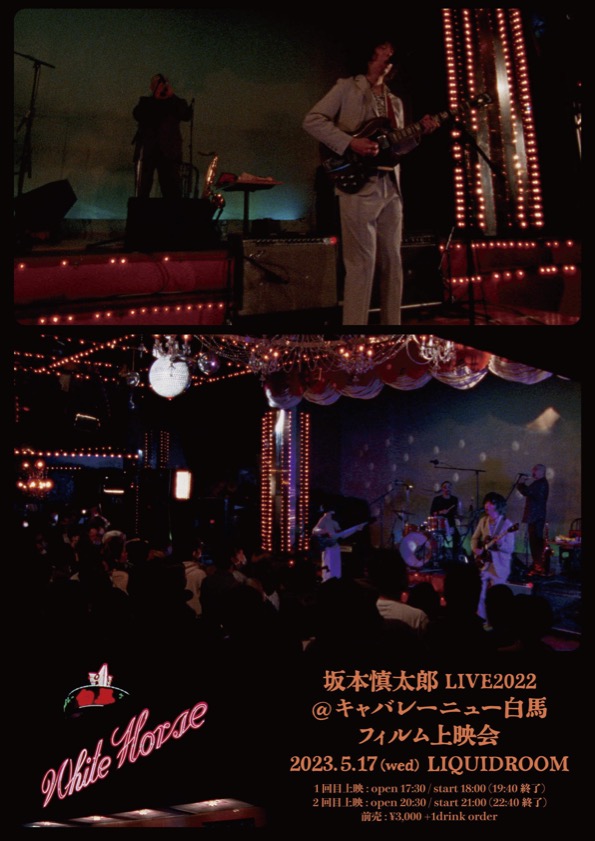 Shintaro Sakamoto LIVE2022@Cabaret New Hakuba  Film Screening
17, May 2023 (Wed) @ LIQUIDROOM
- 1st Screening: open: 17:30 start 18:00
- 2nd Screening: open: 20:30 start 21:00
_Screening Time: 100m / 入替制
- Ticket: Advance ¥3,000 +1drink order
- Door: ¥3,500+1drink order
- Advance Reservation Lottery:  14 April (Fri) 12:00 ~ 16 April (Sun) 18:00
- General sales date: 25 April (Tue) 10:00 ~
Sales URL: https://eplus.jp/sf/detail/3849390001-P0030001
More Info: LIQUIDROOM: 03-5464-0800
2023.4.13 | zelone records