Mama Guitar's 3rd album – arriving nearly ten years since their last album – is being released by zelone records!
Formed in the late 90s,  girls' band Mama Guitar took the world by storm with their perfect early 60s sensibilities and cute chorus work. With overseas releases and tours in countries such as Korea, Germany and more, the group earned fans not only in Japan, but all around the world. After playing their last concert in 2006, the group receded from the scene and was quiet for some time. But after nearly a year of recording, they have completed their 3rd album – "MAMA GUITAR SINGS MAMA GUITAR" – their first album in nearly ten years!
And it seems the album features guest musician Shintaro Sakamoto!
For 13 songs, 34 minutes and 30 seconds, please enjoy the new world of MAMA GUITAR.It seems it will be available in store Friday, February 24th!!!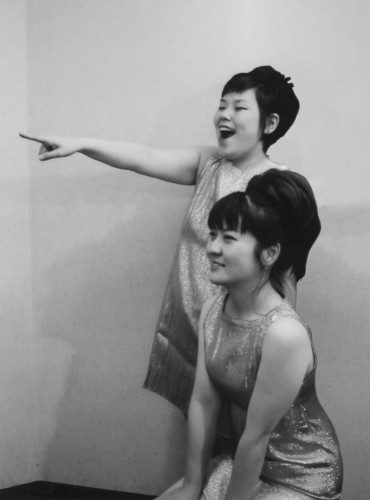 MAMA GUITAR SINGS MAMA GUITAR / MAMA GUITAR
2012/02/24 (Fri) on sale!
Everytime I See Him (music&lyrics : Jun) 3:09
I'm Telling You (music&lyrics : Jun) 2:38
Eat You Up / Bunny (music&lyrics : Jun) 2:27
Wonderful Than Yesterday (music : Jun / lyrics : Yoko) 2:35
Funny Doll (music&lyrics : Jun) 2:41
The Wedding Songs (music&lyrics : Jun) 3:00
Good Night (music&lyrics : Jun) 2:27
The Second Show (music&lyrics : Jun) 2:07
My Little Boy (music : Jun / lyrics : Yoko) 1:31
I Don't Really Want To Know (music&lyrics : Jun) 2:42
Rainy Sunday (music&lyrics : Jun) 2:16
Youth And Rhythm (music&lyrics : Jun) 3:23
Christmas Fair (music&lyrics : Jun) 3:27

zel-004: ¥1890(tax included)
zelone records : +81-3-6320-4396
distribution : Bridge Inc. : +81-3-3710-8049
Produced by Mamaguitar
Mamaguitar : Vocals, Guitar, Keyboard & Percussions : Jun
Vocals, Drum & Chorus : Yoko
Guest Bassist : Shintaro Sakamoto
Recorded, Mixed & Mastered by Soichiro Nakamura@Peace Music, Tokyo Japan
Artwork : Runaway (The Midnights)

Special Thanks to : Chaso, Aniki, Horo, Reiko, Yoshiko, Hideki, Shimosan, Maria Keefe and arasanmaru
2011.12.20 | zelone records